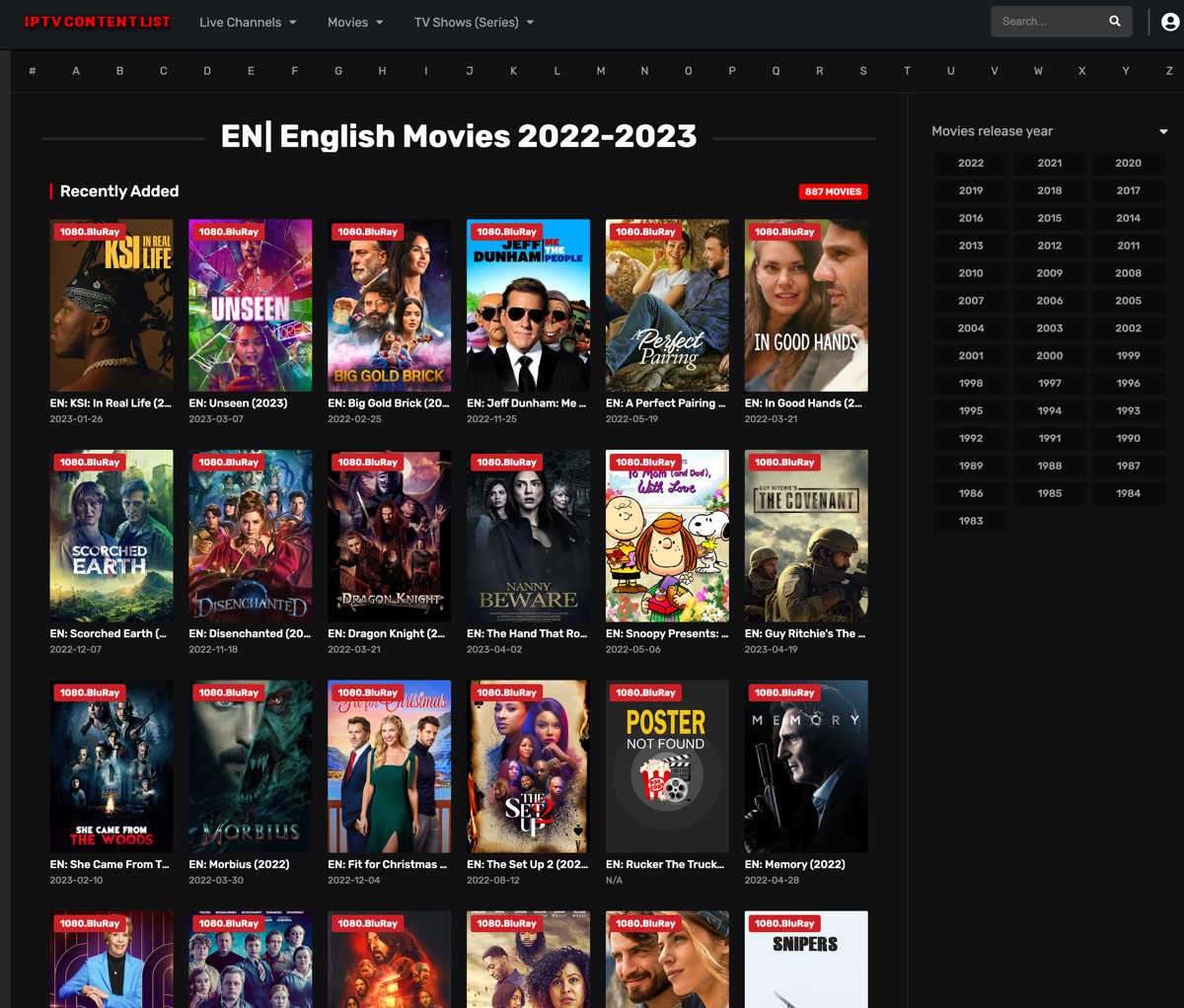 How to Use Our IPTV WebPlayer: A Comprehensive Guide to Seamless Streaming
Are you ready to embark on a seamless streaming experience with our IPTV web player? Look no further! Whether you're using a PC, laptop, Macbook, or even a mobile device, we've got you covered. In this guide, we'll walk you through the simple steps to make the most out of our powerful IPTV web player and unlock a world of Live IPTV, Movies, and Series. Let's get started!
Step 1: Accessing the Webplayer
To begin your streaming journey, follow these straightforward steps:
Retrieving Your Login Credentials
Upon signing up, you should have received a welcome email from us. Open that email and locate the code we've provided.
Copy it to your clipboard as we'll need it shortly.
Logging in to the Webplayer
Now, navigate to the link mentioned in your welcome email and find the Webplayer login section.
Paste your username and password into the designated fields.
Initiating the Login Process
With your credentials in place, it's time to dive into the world of endless entertainment.
Simply click on the "Login" button and let the magic unfold.
Exploring the Boundless Content
Congratulations! You've successfully logged in to our IPTV web player.
Now, it's time to explore the vast library of Live IPTV, Movies, and Series that awaits you.
Troubleshooting: Playlist Loading Issues
In the rare event that the web player fails to load, fret not!
We've got you covered with some troubleshooting instructions. Please follow the steps below:
1. **Check Your Internet Connection**: Ensure that you have a stable internet connection to stream content seamlessly.
2. **Clear Browser Cache**: Sometimes, accumulated cache can hinder the loading process. Clear your browser cache and try again.
3. **Update Your Browser**: Outdated browser versions may not be fully compatible with our web player. Update your browser to the latest version for optimal performance.
4. **Disable Browser Extensions**: Certain browser extensions can interfere with the loading process. Temporarily disable them and retry loading the playlist.
Expanding Your Viewing Experience
Are you looking to enjoy your favorite content on a larger screen? No problem! You have multiple options to enhance your streaming experience:
1. **HDMI Cable Connection**: If you prefer a big-screen experience, connect your device to your TV using an HDMI cable.
2. **Airplay with Macbook**: Macbook users can easily mirror their screens to an Apple TV using the Airplay feature. Immerse yourself in high-quality visuals and audio with this seamless connection.
3. **Windows Compatibility**: Windows users can also enjoy streaming by employing a similar approach.
Wireless Streaming to Various Devices
Want the flexibility of wireless streaming? Our IPTV web player allows you to effortlessly stream to a wide range of devices.
Experience convenience with devices such as Amazon Firestick, Roku, Google Chromecast, and more.
Seek Assistance on Our Support Forum
Should you require further guidance on specific setups, head over to our Support forum.
We've covered a plethora of setups and troubleshooting tips to address any issues you might encounter. Simply use the search option to find your preferred setup or solution.
Leveraging the Power of Google Search
If you prefer to explore beyond our support forum, don't hesitate to perform a regular Google search.
Many valuable resources are available to guide you through any complexities that may arise during the streaming setup process.
Congratulations on Successfully navigating the setup process and accessing our IPTV web player!
Now that you're armed with the knowledge of how to use our web player on various devices, it's time to immerse yourself in a world of seamless streaming.
Enjoy a vast selection of Live IPTV, Movies, and Series right at your fingertips.
As always, we value your satisfaction and are committed to providing exceptional customer support.
If you have any questions or encounter any difficulties along the way, don't hesitate to reach out to us. Our dedicated team is available through our chat feature, ready to assist you in any way possible.
Start streaming effortlessly with our IPTV web player today and unlock the endless possibilities of entertainment.
Dive into a world of thrilling live broadcasts, captivating movies, and addictive series that will keep you glued to your screen.